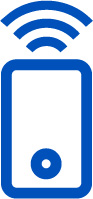 BluREMOTE provides people the ability to use their mobile device as a virtual credential for access through portals and to floors. It is a built-in feature of the BluSKY Platform and does not require purchasing proprietary credentials or Bluetooth or NFC readers: in fact, it doesn't require a reader at all – only an Internet connection at the access point.
It works at any controlled portal, relay elevator or destination dispatch elevator to which a person has access, and it works across multiple sites, systems, and hardware. For destination dispatch elevators it even provides the elevator car assignment right on your mobile device. BluREMOTE can also be used as a remote control for reception areas, gates, parking garages, and visitors and is a more secure way to provide access because it creates an audit trail of the event. BluREMOTE is security design for convenience.
Search Criteria
As you can see in the iPhone screen images below you can easily select the System and Facility for your portals. If you have a large selection of Portals or Elevators to choose from, you can filter the list to just the few key Portals or Elevators you want for easy access, just fill in the Portals or Floor Stop fields. Once you have all of the necessary fields entered, click the
button to populate the control screen.
| Criteria | Description |
| --- | --- |
| System | The name of the access control system |
| Facility | Where all facilites can be viewed and edited. |
| Portals | Select 1 or more portals. The pull-down list will already be filtered to those floor stops you already have access to. Leave this field blank if you want all portals to be displayed. |
| Floor Stops | Select 1 or more floors stops. The pull-down list will already be filtered to those floor stops you already have access to. Leave this field blank if you want all floor stops to be displayed. |
| Search Text | This field is used to limit the number of rows listed in the list box below. To use simply type a string of characters or words. Please note you will only see those items you have the permission and access rights for. It is a good idea to search first, even when you are creating a new entry. |
Getting Started
When you navigate to the BluREMOTE Control screen (Control->BluREMOTE) for the first time you may be asked to select Portal or Elevator views and then System and Facility. This is to set the exact view you want. Once this is set it will be your default configuration. The next time you navigate to BluREMOTE it leaves you on either the Portal or Elevator screen you used last. If you do not get either the Portal/ Elevator selection or are not asked to select your System or Elevator, don't worry, it simply means that we were able to determine your default system automatically.
Controlling BluREMOTE
It should be no surprise that the hallmark of any access control system is the ability to control the flow of people through a system. This can be done with credentials and access rights, but there are certainly times where having direct control from your mobile device is key. This is where the BluREMOTE Control screen comes into play. With 3 clicks, this control screen enables the user to gain access. Select one portal or for elevators you can select the car for relay elevators or the floor stop for a DDE elevator.
BluREMOTE Control Selection

Portal Access
Relay Elevator Access
Destination Dispatch Elevator Access