Mercury MR50 Series 2 & 3 Serial I/O Controllers
Last updated
Authentic Mercury MR serial input/output (SIO) devices represent the secondary level in Mercury's distributed architecture. The devices provide flexibility ensuring they can choose the controller that best fits their needs.
The MR50 Series 2 & 3 SIO are economical single card reader interface panel dedicated to individual door oversight and provides of all the I/O needed for controlling a single door. Both MR50 Series 2 & 3 SIO connect one card reader, two general-purpose input monitor points and two control relays for access control and security monitoring through an Authentic Mercury EP intelligent controller.
The panel is easy to install and supports Wiegand, clock and data, magnetic stripe, F2F, Supervised F2F, OSDP, keypad and biometrics reader technologies. With its compact footprint and RS-485 connectivity, both MR50 Series 2 & 3 SIO can be clustered or distributed depending on the installation environment.
An ideal choice for a compact and economical single-card reader panel, the high-performance MR50 Series 2 & 3 SIO are versatile, reliable interface for an individual door
Application Notes
The inputs and the relays can be assigned to door-related functions or to general purpose I/O. The inputs support normally open, normally closed, supervised and non-supervised circuits. The relays can be configured for fail-safe or fail-secure operation.
Hardware interface and card format settings are loaded through software commands.
When connected to a Mercury EP intelligent controller, the MR50 Series 2 & 3 SIO can relate the activities of selected system devices to other devices within the system, generating actions and allowing activities to occur independently of the host. The MR50 Series 2 & 3 SIO can also locally process access requests based on facility code verification, even disconnected from an intelligent controller. Up to eight facility codes may be active in each of the MR50 Series 2 & 3 SIO .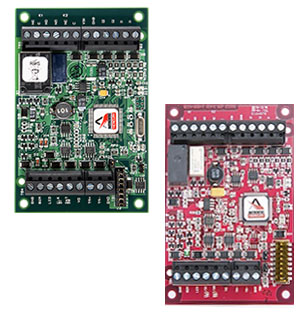 ---
Features
Multi-facility code and reader technology support

AES 128 bit data encryption

UL 294 Recognized

Universal I/O device characterization

AES 128/256 Data Encryption

HSPD-12/FIPS201 compliant

UL 294 recognized, CE compliant, FCC, RoHS

Supports OSDP, OSDP Secure Channel, FICAM government profiles, keypads, biometric readers, Wiegand, clock and data, magnetic stripe, F/2F and supervised F/2F reader technologies

RS-485 host connectivity

Open Architecture

Easy Expansion

Enhanced Security

Versatile Interoperability
Benefits
Easily connects to Mercury's intelligent controllers

Provides all I/O needed for single door control

Small footprint for versatility

Supports Wiegand, clock and data, magnetic stripe, F2F, Supervised F2F, OSDP, keypad and biometrics reader technologies

High performance, reliable platform enables use of hardware with Mercury OEM partners software solutions

Supports OSDP and Secure Channel protocol for device connectivity, file transfer and extended applications such as biometrics and federal government profile support

Embedded crypto memory chip provides a secured layer of encryption to protect sensitive data

Same reliable interface and identical footprint as Series 2 Mercury IO modules, enabling seamless upgrades for existing deployments
---
System Diagram

---
Specifications
Electrical
Primary Power:
12-24 VDC +/- 10%, 500mA maximum

150mA maximum

12Vdc @ 110mA nominal

24Vdc @ 60mA nominal
Communications:
RS–485, 2-wire, 4,000'
(twisted pair with shield, Belden 9841)
Reader Port:
1 Power: Input voltage pass- through Data Card/Keypad
Clock/Data, Data–1/Data–0, or RS-485
LED:
Two-wire or one-wire bicolor support
Buzzer:
Only with one-wire LED
Inputs:
2 general-purpose: Programmable circuit type

One dedicated (tamper)
Output Relays:
Relay 1: Form–C, 5 Amp 30 Vdc

Relay 2: Form–C, 1 Amp 30 Vdc
Dimensions:
2.75" L x 4.25" W x 1.0" H, (70mm L x 108mm W x 25.4mm H)
Temperature:
-40—75 °C operational, -55—85 °C storage
Humidity:
0-95% RHNC
Standards:
UL294 recognized

CE compliant

RoHS
Ordering Information:
| MFG Part # | BluBØX Order # | Description |
| --- | --- | --- |
| MR50 Series 2 | 120-2300 | Mercury - MR50 One Door Controller 12/24VDC |
| MR50 Series 3 | xxx | Mercury - MR50 One Door Controller 12/24VDC |
Additional Resources