Person Activity Report
Last updated
BluSKY URL: https://blusky.blub0x.com/en-US/UserActivityReport
Overview
The Person Activity Report details a Person's use of the Access Control System. This article discusses how the report can be used to manage a Facility as well as some of the options for creating this report.
The Report
The Person Activity Report can be used to track someone movement through a building. We hope that you will never need to check in on your employees but in the case you do, this report can provide valuable insight into someone's movement through the Facility. For example, one of our customers had an issue with an employee constantly being away from their desk. Using the report, the customer was able to see a pattern of frequent breaks and steps were taken to correct the issue.
| Name | Description |
| --- | --- |
| Person | The name of the person who requested access at a Reader. |
| Card number | The card number used associated with the Person using the Reader. |
| Location | The place where the Person used their card |
| Time | The date and time of the access request. |
| Access Granted | This field displays either true or false, depending on whether the Person was allowed to proceed through the Portal or Floor Stop. |
---
Creating the Report
Log in and navigate to Person Activity Report. Main Menu-> Reports-> Person Activity Report
​
Select the Person or People to run the report against.

Enter search criteria as needed. Once a System, Facility or Occupancy is selected, a new selection type will become available. This new type allows you to select all people of that Occupancy, System or Facility. (Fig 1.)
Select each Person and click the button to move them from the unselected list to the selected list or use the button to move everyone from the unselected list ot the selected list. Note: You will not be able to select people individually and use the special selection types. (Fig 2.)

The button will deselect everyone selected so far and the button allows you to deselect them individually.
The button will undo your last action and the button will reverse the undo action.

When finished, click the button to select the People and close the Person selector.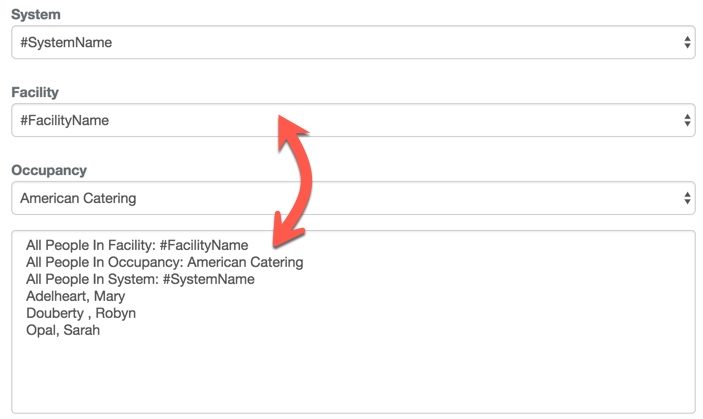 Select the Portals and/or the Floors by clicking on the or the button.
If you are only looking to generate a report during a period of time of time, you may do so by specifying the time in the From and To fields.
Select the format you want the report in, either PDF or Excel spreadsheet.
When finished use the button to generate the report.