Access Level Report
Last updated
BluSKY URL: https://blusky.blub0x.com/en-US/AccessLevelReport
Overview
The Access Level Report will provide details on each of the Access Levels, including who is assigned, which Readers or Floor Stops and the Access Schedules assigned to them for the specified System.
This report can be used to audit all of the Access Levels to help keep a Facility secure or to help troubleshoot an access right issue. More information on Access Levels is found in our Access Level guide.
The Report
The Access Level report gives a great overview of all of the Access Levels you have access to in the System. This report will return information on the Access Levels but also who the Access Level is assigned to.
| Name | Description |
| --- | --- |
| Point Type | Specifies if the access point is a Reader or a Floor Stop. |
| Point Name | The name of the Reader or Floor Stop. |
| Schedule | The Schedule currently being used to determine access rights. |
| Assigned To | This tells who has the Access Level assigned to them. |
| System | Name of the access control system. |
| Company Name | The name of the Person's Occupancy or Vendor. |
| Type | This field indicates if the Person is an Occupant, Vendor or Integrator. |
| Email | The email of the Person. |
| Phone | The phone number of the Person. |
| Last Modified By | This field reports who last changed the Access Level. |
| Last Modified | This field indicates the date and time of the most recent change to the Person's Access Level. |
---
Access Level Description
The Access Level Description details all of the Floor Stop and the Readers associated with the Access Level. The report will also show the schedules that are assign to each of the Readers and Floor Stops. This report can also be used to investigate changes that may have been made to an Access Level, using the "Last Modified By" column.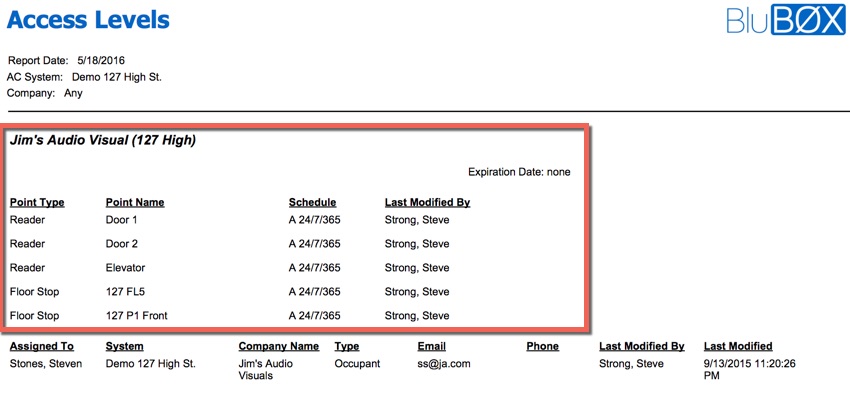 ---
Access Level Assignment
Knowing what devices are associated with the Access Level is only half the battle. The second section of the report will detail which People are assigned the Access Level. This can be incredibly useful for tracking down issues with unwanted entry into a certain area.
Log in and navigate to Access Level Report. Main Menu-> Reports-> Access Level Report
Click the

Please Select

link to open the Company picker dialog. Filter result by the selected System.

Once selected the "All Companies in a System" will become available.

Filter the results by the selected Facility
Text Search
List of the available Companies to select.
Controls for selecting and deselecting companies.
The selected Company.

Next, choose the format you want the report in, either PDF or Excel spreadsheet.
When finished use the button to generate the report.